Online Presentation. Recent Paintings by Daniel Sparkes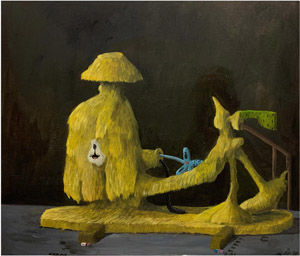 Through his depictions of what he calls 'Spoof Monuments', Daniel Sparkes creates a thematic oddball merger in oil paint and graphite. 
By traversing a stylistic void between 16th century Dutch still life painting and early Disney cartoon cel backgrounds, he composes visions of historically unhinged shrines to paradoxical cultures. His comic character subjects, with facial features misplaced, are abstracted and fused into warped statue-esque forms adorned in esoteric symbolism. In his distinctive visual world, modern trademarks become primitive hieroglyphs, and forest dwellers become two-dimensional mossy-facades, as the line between object and character is blurred, amalgamated to form dilapidated totems.